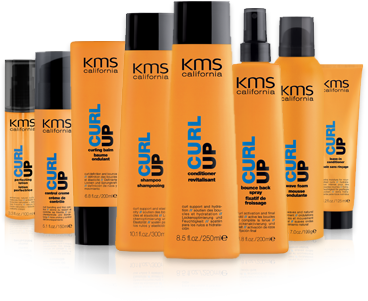 KMS California Curl Up
Shape and control your curls with the KMS California Curl Up collection. This refreshing line of products bundles your hair into soft, sexy curls while providing lasting separation with a frizz-free finish. Hydrate and improve elasticity for curls that shine, bounce and remain tangle-free. This line of products work together as concentrated formulas that define, moisturize, soften and smooth hair for the perfect curls.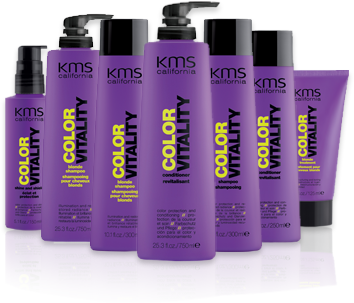 KMS California Colour Vitality
Seal in colour and make it last up to three times longer with the KMS California Colour Vitality collection. Revive colour-treated hair with a line of products that condition to prevent colour fade and restore radiance. The KMS California Colour Vitality line also features special shampoo and treatments to illuminate blond tones and repair any damage.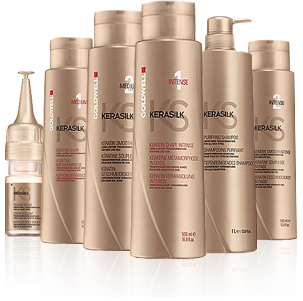 Goldwell Kerasilk Keratin
From frustrated to fabulous. Discover the ultimate transformation with Goldwell Kerasilk Keratin, the first customizable and long-lasting smoothing treatment for smooth and silky hair for up to five months. The Kerasilk Keratin collection replenishes disparities with the hair and seals the cuticle for abiding manageability and luxuriously soft hair.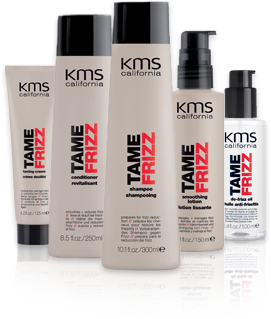 KMS California Tame Frizz
Stop frizz before it begins with KMS California Tame Frizz. Smooth and detangle hair while providing instant comb-ability and frizz reduction. This line of products control hard-to-tame frizz and add definition and style manageability. Products are humidity resistant and provide heat protection.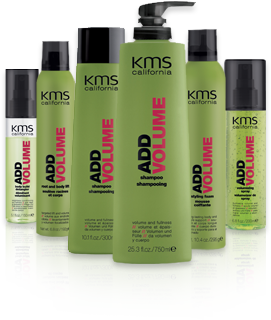 KMS California Add Volume
Go big with KMS California Add Volume. Maximize the body and fullness of your locks with products that strengthen and give fine and limp hair a lift. The KMS California Add Volume line features styling foam, root and body lift, and volumizing spray that gives hair up to 70% more volume. Get the intense fullness and volume you desire.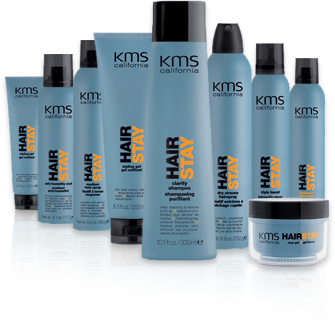 KMS California Hair Stay
KMS California Hair Stay removes dulling product and mineral buildup, leaving hair clean and healthy. Now you can increase manageability and boost performance of styling products for up to three times longer. The KMS California Hair Stay line features products for everyday use that purify, protect and style hair.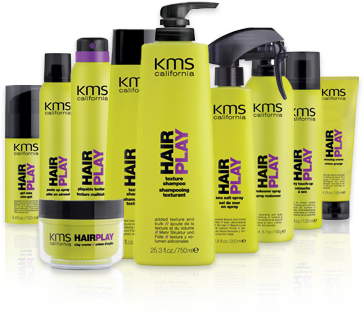 KMS California Hair Play
Let your hair take centre stage. KMS California Hair Play features a line of products that add bulk, build texture, shape, control and protect hair. Whether you're opting for sleek, straight hair, soft romantic curls or embracing your natural locks, KMS California Hair Play gives you all-day style memory while separating and defining hair for flexible control and lasting shine.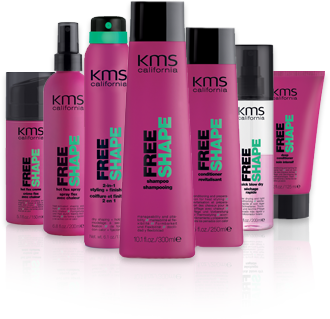 KMS California Free Shape
Unleash your locks with KMS California Free Shape. Transform coarse or unruly hair into versatile smooth styles while providing heat protection, anti-breakage and humidity resistance. The KMS California Free Shape line features a hot flex spray that adds flexible shaping, elastic hold and unlimited heat styling without the damage.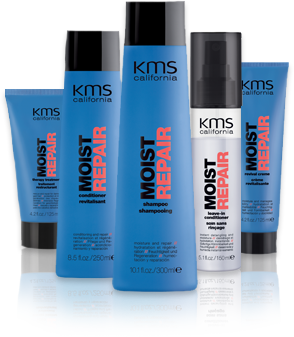 KMS California Moist Repair
Show your hair some love with KMS California Moist Repair. Restore moisture balance, improve manageability and control static flyaways using products that penetrate deeply to reconstruct damaged hair. The KMS California Moist Repair line strengthens, moisturizes and conditions hair to restore lustre.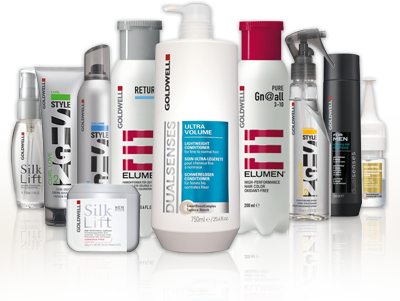 COMPLETE GOLDWELL PRODUCTS
Goldwell is a stylist-exclusive brand that professionals use. Discover encompassing brilliance with Goldwell's collection of products that range from shampoos, conditioners, treatments, oils and styling products. Reach your hair goals with products that deliver stunning results while offering a nurturing hair system.
Please visit Amado Salon to see our full line of products